Features
Produces a PDF file that compliant with the eCTD specification from MS Office documents.

Execute rendition process by sending a request from Documentum or drag&drop into a shared folder.
Supports a wide variety of characters including multilingual text.

Provides stable software management.

The system automatically recovers and performs rendition again when the server encounters an error during the rendition process.
The system also keeps working and continues to the next process even when encountering a document that can't be converted. An administrator and/or user can receive a notification message when an error occurs.

Flexible management tool through a Web UI

You can check the status list for on-going rendition processes. It's also possible to prioritize the processing of urgent document with a quick & easy interface

Well-equipped with eCTD-related tools
We are OpenText Certified Technology Partner.
We are Certified Technology Partner for Generis corp.
Linked document management system
Optional Functions of PharmaDoc Generator
Publish Option
In Documentum linkage, you can combine documents included in Virtual Document and register the created PDF file in Documentum.
Load Balancing Functionality
Queues can be distributed to multiple PharmaDoc Generators for efficient rendition.
New Feature
Documentum 21.4 has been supported.
The owner can be changed to the publish requester when registering a PDF file for the Publish option (CARA Linkage Option).
This feature enables the publish requester to easily search and view published documents from CARA's web screen.
Improvements
Fixed the bug that CARA Linkage Service error caused when a long string was specified for the version label of a document.
Basic Functions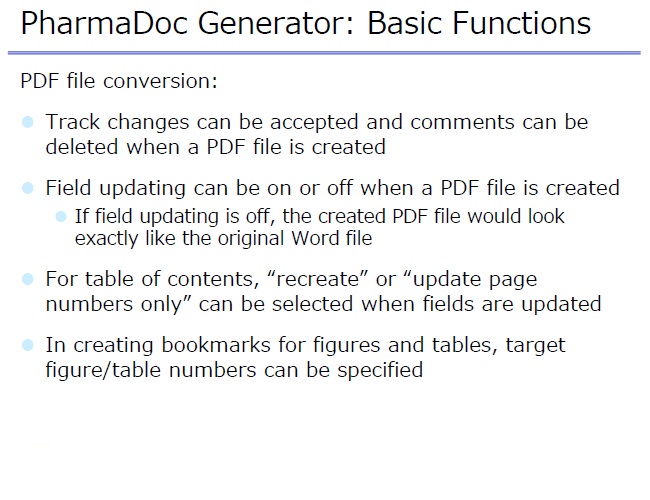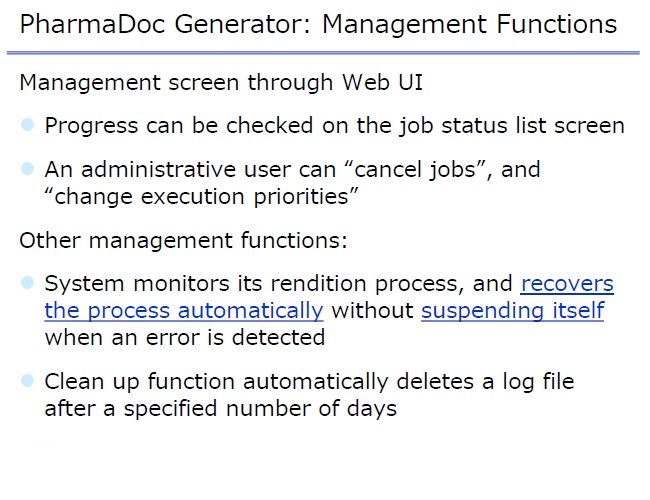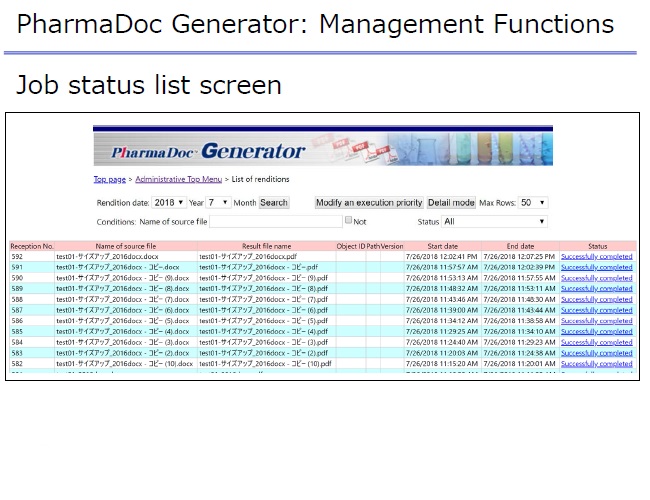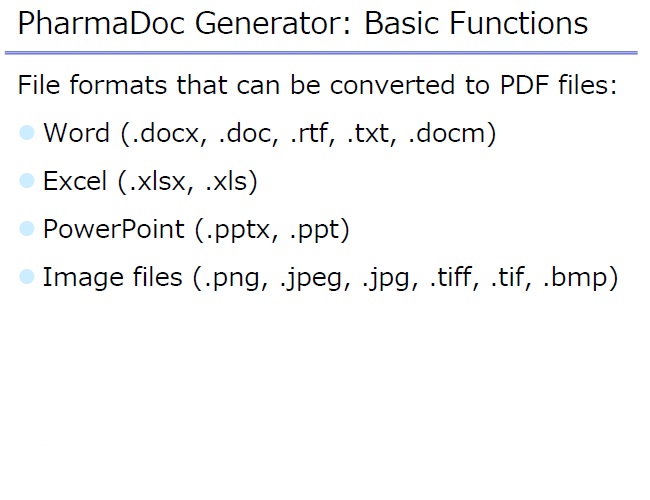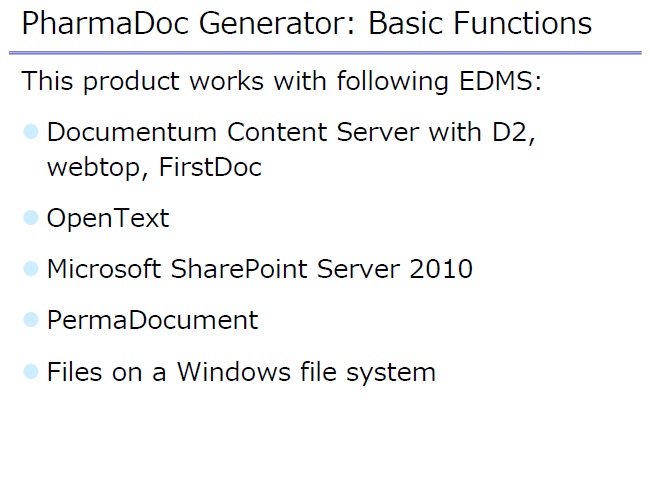 Version
System Requirements
PharmaDoc Generator 5.2
Versions of Adobe PDF Library
(Japanese and English versions)
– Windows Server 2016, 2019 / Microsoft Office 2016, 2019, Microsoft 365 / Adobe PDF Library and Adobe Normalizer
Connection linkage
– CARA 5.3, 5.6
– Documentum Content Server 16.4, 20.2, 20.4, 21.4
– Documentum D2 16.4, 20.2, 20.4, 21.4
– Perma Document
– PharmaDoc Publisher
PharmaDoc Generator is available with an English or Japanese UI.
* PharmaDoc is a registered trademark of Planet Pharma Solutions, Inc. in Japan.
* Adobe Normalizer and Adobe PDF Library are products of Adobe and Datalogics.
* Company names and product names mentioned are trademarks or registered trademarks of each company.
* If you would like to use the Adobe Acrobat Distiller version with PDG 4.6.0 or later, please contact our support desk.
* Acrobat® is a registered trademark of Adobe Incorporated in the United States and /or other countries.
* The system requirements for the Publish option is the PDF Library version only. It does not work with the Adobe Acrobat Distiller version.