Features
Produces a PDF file that compliant with the eCTD specification from MS Office documents.

Execute rendition process by sending a request from Documentum or drag&drop into a shared folder.
Supports a wide variety of characters including multilingual text.

Provides stable software management.

The system automatically recovers and performs rendition again when the server encounters an error during the rendition process.
The system also keeps working and continues to the next process even when encountering a document that can't be converted. An administrator and/or user can receive a notification message when an error occurs.

Flexible management tool through a Web UI

You can check the status list for on-going rendition processes. It's also possible to prioritize the processing of urgent document with a quick & easy interface

Well-equipped with eCTD-related tools
We are OpenText Certified Technology Partner.
New Functionalities
Enhanced Documentum linkage function.

The rendition pattern can be selected in the properties of the document that requested the rendition. This allows you to specify, for example, not to create a chart number bookmark for IB documents.
The property value of the document requested for rendition can be used. This allows you to include important customer-specific information (document management number, version number, project management number, etc.) in the notification email.
Enabled to specify conditions when retrieving rendition request queue from Documentum. This will enable settings such as not acquiring the rendition request queue for PDF files.In addition, when multiple PharmaDoc Generators are installed, it is possible to specify the PharmaDoc Generator to be processed according to the document property value, for example, the document type, etc. Rendition processing can be performed efficiently for documents that take a long time to rendition processing) and documents that do not.。
When a rendition creation request occurs for a PDF file, the PDF file can be registered as another rendition.

Enhanced VD rendition function.

When a rendition creation request is sent to VD, documents in VD can be merged and page numbering can be performed. * Separately, PharmaDoc Generator Publish option is required. The Publish option is charged.

Enhanced the ability to create PDF bookmarks from paragraphs with styled Word documents. When creating a bookmark from a paragraph with a specific style, you can force the next bookmark level to 1. This will automatically make the bookmark hierarchy of the paragraph "Heading 2" the first hierarchy as shown below.
Basic Functions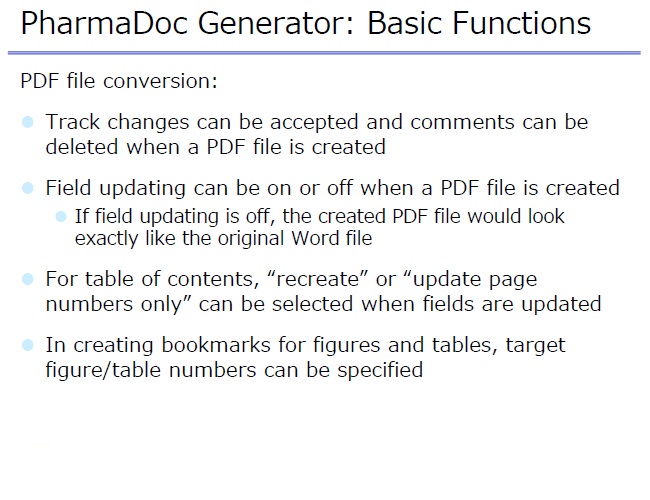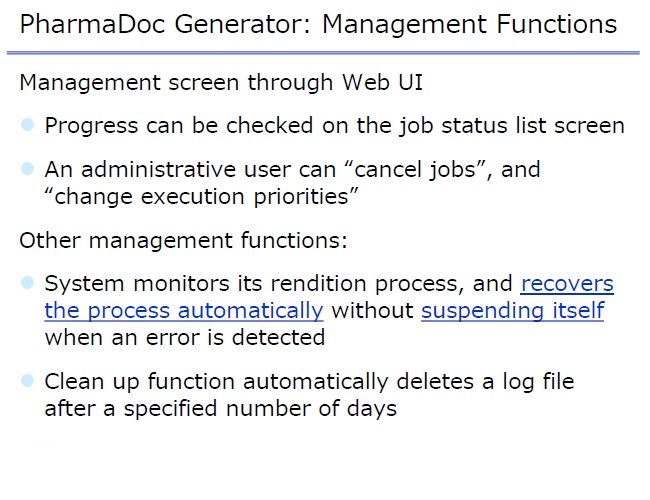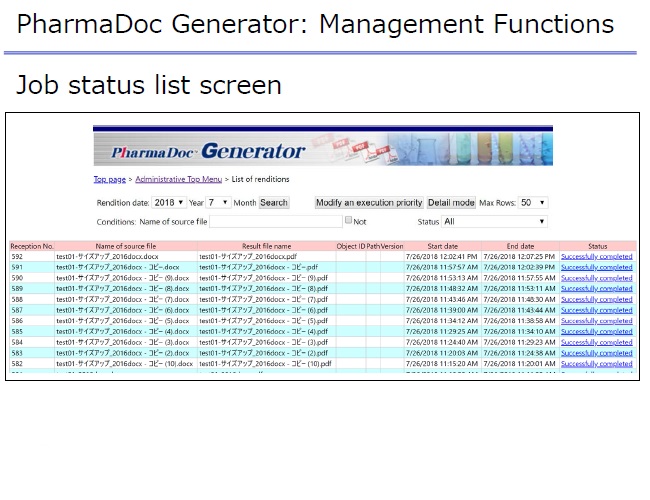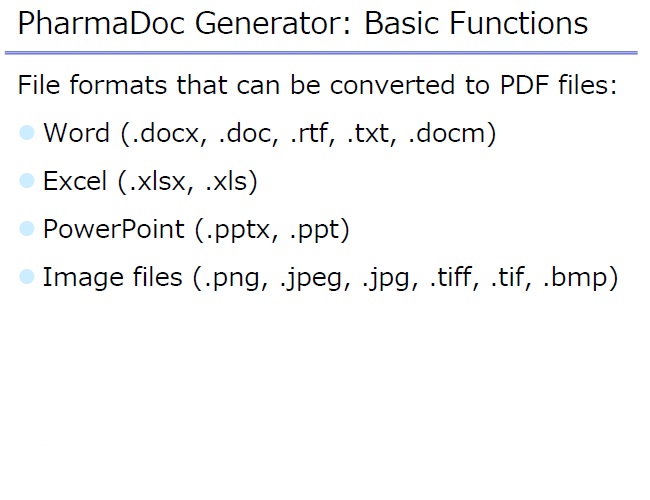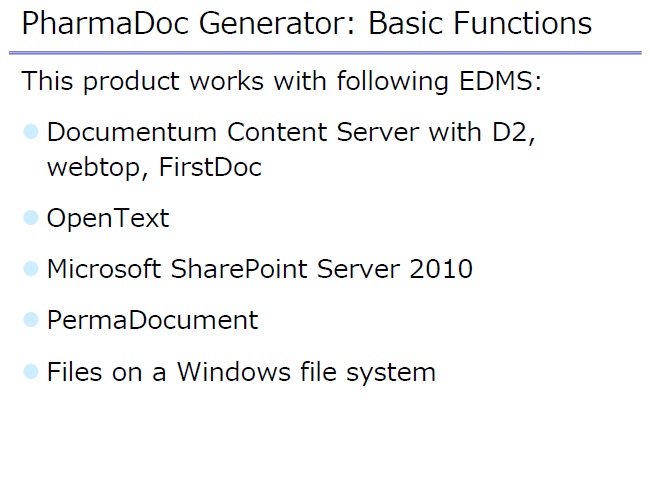 Load Balancing Functionalty
Purpose of load balancing
Improvement of throughput by load balancing

Use of multiple PDF conversion servers increases total throughput

Improvement of scalability

On-demand servers, which normally are on cold standby and used only during peek periods, can be added or removed

Improvement of stability

Use of multiple PDF conversion servers allows the process to continue even when part of the servers are down
Version
Supported Environments
PharmaDoc Generator 4.4
Versions of Adobe Acrobat Distiller
(Japanese and English versions)
– Windows Server 2012 R2, 2016 / Office2016, Office365 ProPlus / Acrobat DC 2015, 2017
Versions of Adobe PDF Library
(Japanese and English versions)
– Windows Server 2012 R2, 2016 / Office2016, Office365 ProPlus / PDF Library
Connection linkage
– Documentum Content Server 7.1, 7.2, 7.3, 16.4
– Perma Document
– Microsoft SharePoint Server 2007 SP3, 2010 SP2
PharmaDoc Generator is available with an English or Japanese UI.
There are two versions of PharmaDoc Generator, one that works with Adobe Acrobat Distiller and another that works with Adobe PDF Library/Normalizer.
* PharmaDoc is a registered trademark of Planet Pharma Solutions, Inc. in Japan.
* Acrobat® is a registered trademark of Adobe Systems Incorporated in the United States and /or other countries.