Features
The dedicated marking tool speeds up the task of highlighting (marking) redaction candidates.
A verification PDF file, which is automatically created, allows you to check whether all the texts marked for redaction are completely removed. Visual checking can be done easily and quickly.
A redaction draft (marked-for-redaction PDF, proposed list of redaction items) and a publication-ready copy (redacted PDF) are created automatically.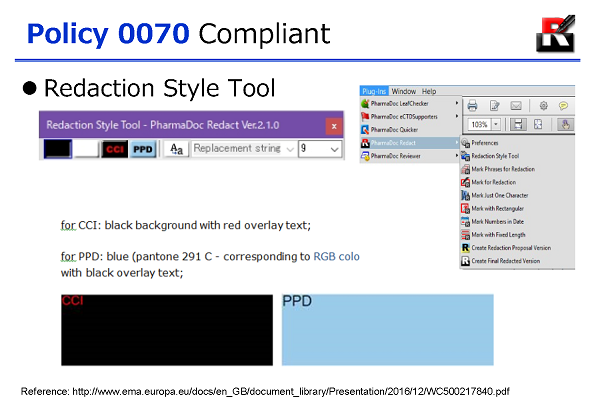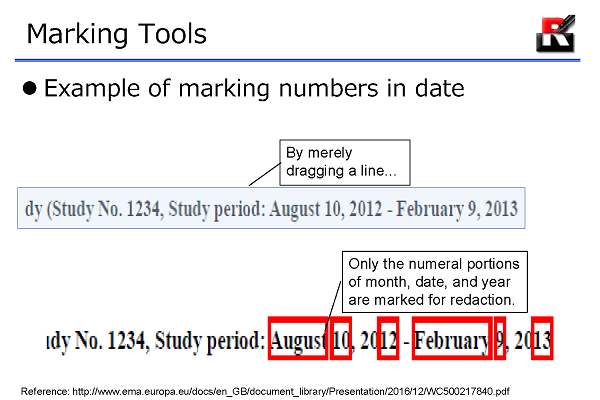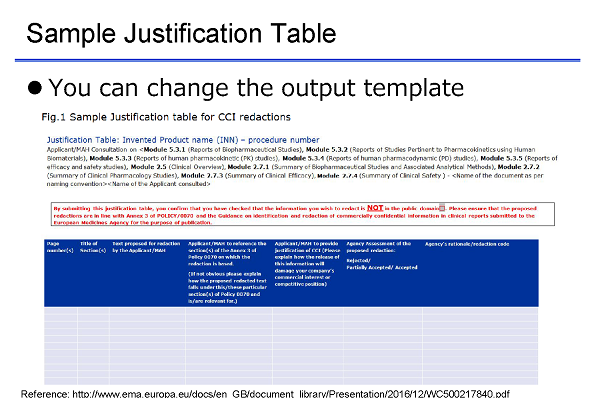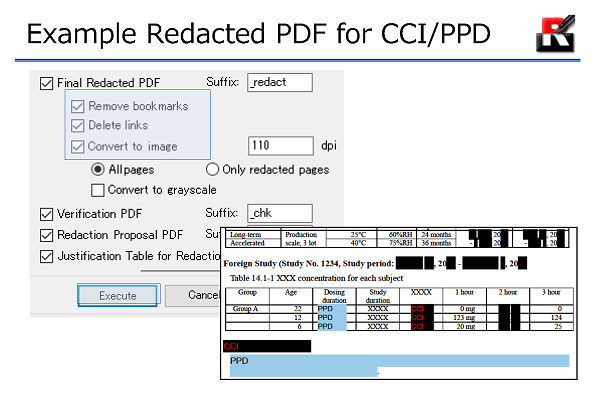 New Functionalities
You can now use the Redaction Style Tool to specify a replacement string and its font size.

– You can search for a character string in Acrobat's Find dialog to replace it with a replacement string.
– When Original Size is selected for the Font size, the replacement string will have the font size of the original string. When Fit Width of Redaction Area is selected, the font size of the replacement string will be zoomed in or out to fit the redaction area.

Marking can now be done using the OCR information (hidden text). To prevent the failure to redact, the page will be automatically converted to an image.
A Verification PDF can now flag locations of unredacted items using a rectangle annotation.
A Final Redacted Version file can now be split.
EMA Policy 0070 is now supported. The user can create redacted documents for EMA by masking Company confidential information (CCI) and Protected personal data (PPD).
The user can mark character strings by selecting redaction style (Fill Black, Fill White, CCI, PPD) in Redaction Style Tool.
The user can mark for selected text. The Mark for Redaction, Mark Just One Character, and Mark Numbers in Date tools that mark character strings are subjected to this new feature. This feature does not support multiple pages.
While creating a final redacted version document, when the user selects Leave as Comments, pages containing comments will be converted to images and included in a Final Redacted PDF file.
Improvements
The font size of text callout can now be specified in the Replace category of the Preferences dialog
The position to insert a footer on the replacement page can now be specified in the Details dialog.
Only the top line could be replaced in the past when replacing a multi-line character string. Now the entire multi-line string can be replaced.
When Redaction Proposal PDF, Verification PDF, or Final Redacted PDF cannot be saved, they can now be saved under a different file name.
You can now abort a running Mark Phrases for Redaction, Create Redaction Proposal Version, and Create Final Redacted Version.
A cover page can now be inserted when creating a Final Redacted PDF.
Pages to be excluded can now be specified in Justification Table for Redaction Proposal Version.
We fixed PharmaDoc Redact, so that it does not launch when another application calls up Acrobat.
List of Functions
Support for marking

– Mark phrases for redaction
– Mark a string of words
– Mark just one character
– Mark numbers in date
– Mark with fixed length
– Mark with a rectangular frame

Creation of a redaction draft

Redaction proposal PDF
Justification table for redaction proposal version

Creation of a publication-ready document

Redacted PDF

– Clear document properties
– Delete bookmarks
– Delete links
– Convert page to image file (monochromatic image creation supported)

Verification PDF
Version
System Requirements
PharmaDoc Redact 2.1
– Windows 7, Windows 8, Windows 8.1, Windows 10
– Adobe Acrobat X, XI, DC 2015, 2017, DC Continuous(2019)
– Microsoft Word 2010, 2013, 2016, 2019
– Microsoft Excel 2010, 2013, 2016, 2019
– Microsoft Visual C++ 2010 SP1 Redistributable Package (x86)
Bundled Software
– PharmaDoc Reviewer
– PharmaDoc Quicker
PharmaDoc Redact is available with an English or Japanese UI.
* PharmaDoc is a registered trademark of Planet Pharma Solutions, Inc. in Japan.
* Acrobat® is a registered trademark of Adobe Systems Incorporated in the United States and /or other countries.