Features
PharmaDoc LeafChecker checks whether created leaf files are compliant with eCTD standards.
The created leaf files will be checked for any problems that may arise when submitting them to the Pharmaceuticals and Medical Devices Agency (PMDA) on electronic Submission Gateway.
<Main items that are checked when submitting to PMDA on electronic Submission Gateway>

Whether there is JavaScript in the file
Whether there are JPEG 2000 compressed images
Whether there are bookmarks that exceed a certain size

The tool will identify the exact file and pages where deficiencies are located.
The tool allows you to check all leaf files in a folder, just by designating a folder.
Customers can create a configuration of checked items in different leaf files based on their needs.
Thus, they can check the quality of leaf files, just by designating the names of checked items, even without understanding the details of the checked items.
PharmaDoc LeafChecker is currently used at 30 pharmaceutical companies and CROs (under annual basic support contracts).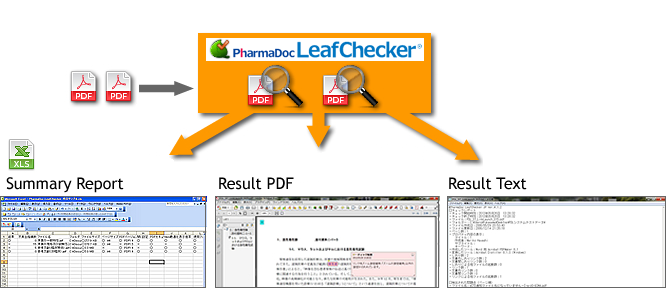 Check items for Leaf File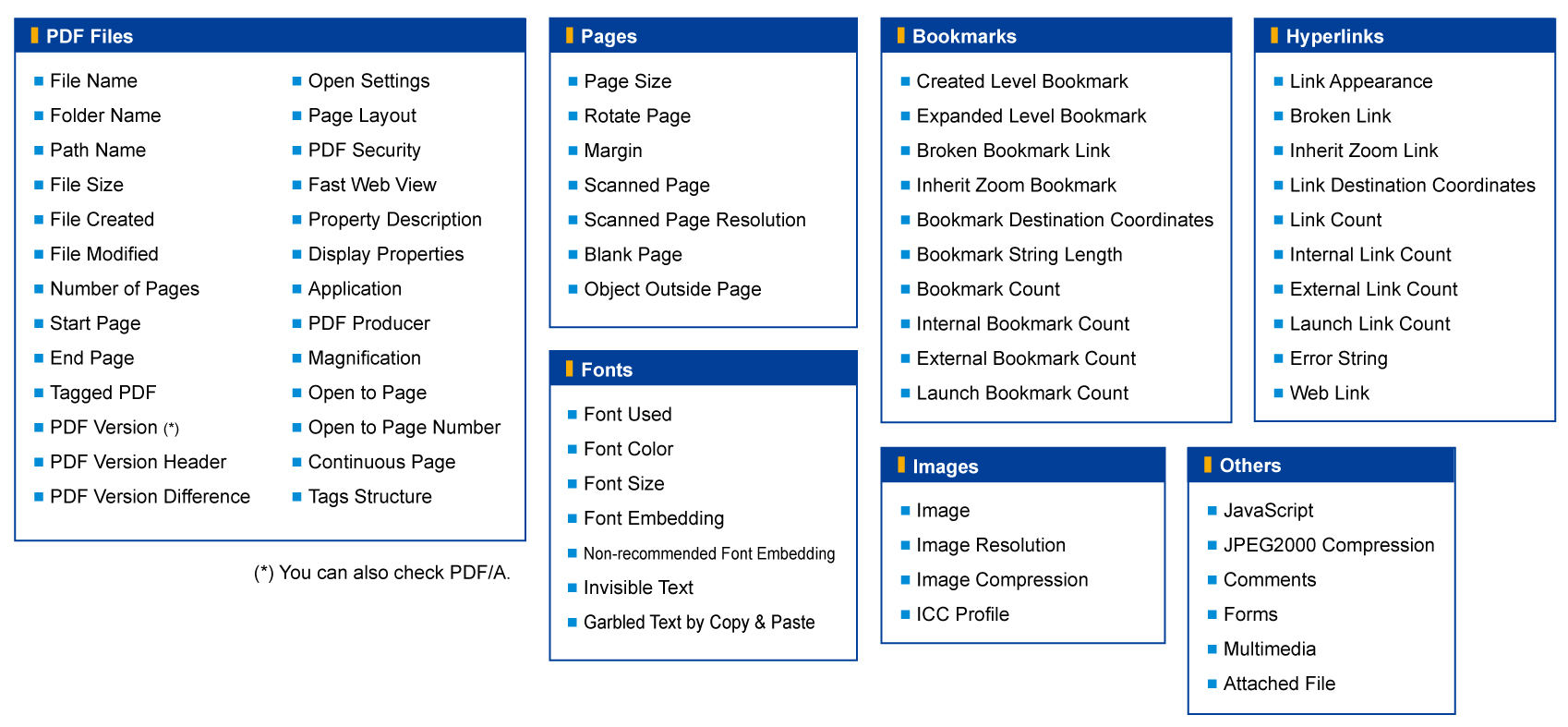 leaf_checkitem_ex_Slider-11
PharmaDoc LeafChecker dialog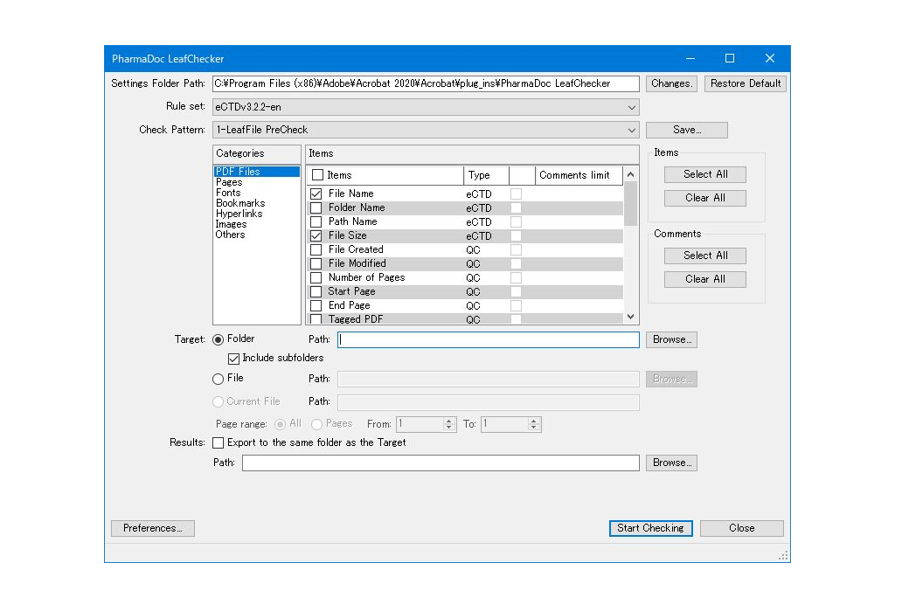 leaf_checkitem_ex_Slider-21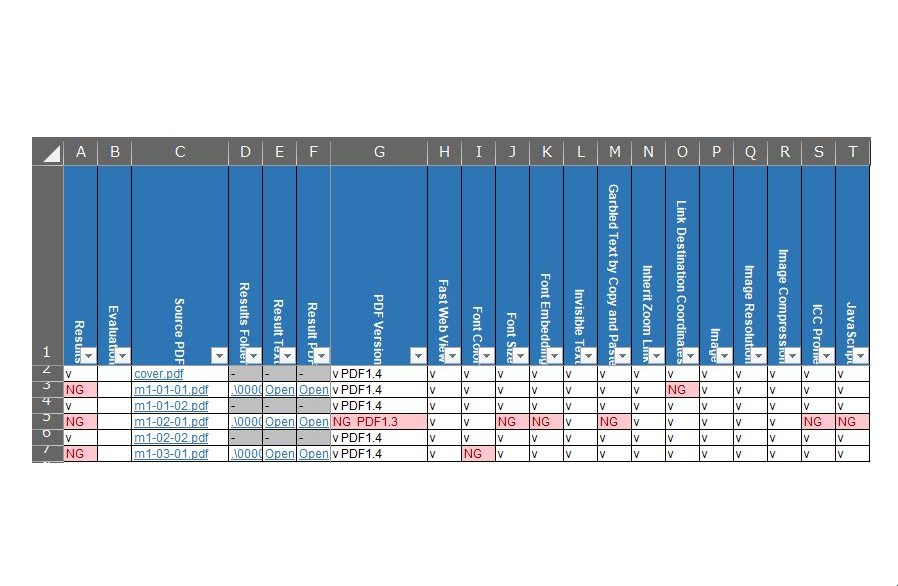 leaf_checkitem_ex_Slider-31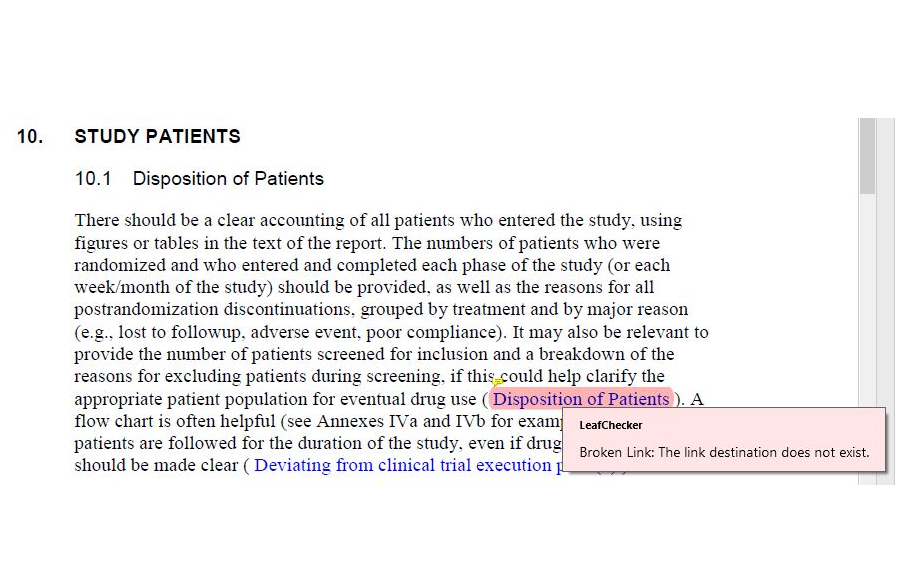 leaf_checkitem_ex_Slider-41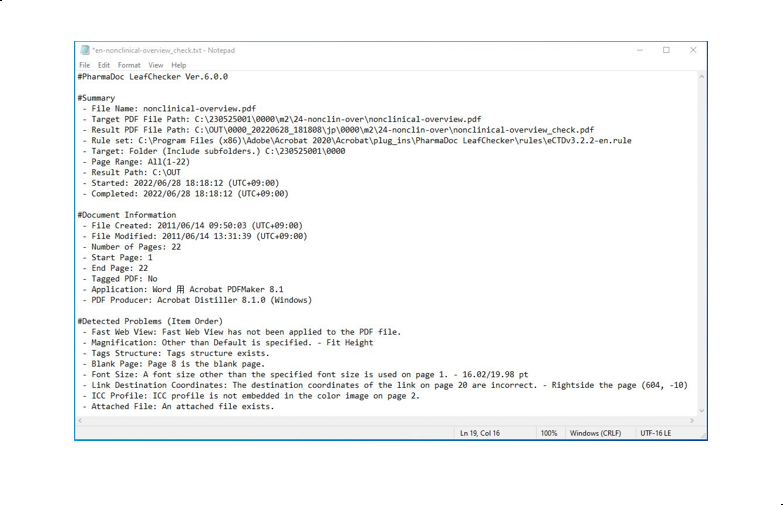 New Functionalities
eCTDv4.0 Support
– An [ICC profile] check item that points out if an image does not have an embedded ICC profile has been implemented.
– Rule set for eCTDv4.0 and eCTDv3.2.2 are available.
– Launch link action to CDISC files (.xpt) is not detected.
– Annotated Case Report Form (Annotated CRF) are not detected even if annotations are added.
Added items
– Bookmark Destination Coordinates, Link Destination Coordinates: Detects the destination if it is outside of the right end bottom page.
– Image: Detects an image.
Version
System Requirements
PharmaDoc LeafChecker 6.0.0
– Windows 8.1, Windows 10, Windows 11
– Adobe Acrobat DC 2015, 2017, 2020, DC Continuous (32bit only)
– Microsoft Excel 2013, 2016, 2019, 2021, Microsoft 365
– Microsoft .NET Framework 4.8
– Microsoft Visual C++ 2015-2019 Redistributable Package (x86)
* PharmaDoc is a registered trademark of Planet Pharma Solutions, Inc. in Japan.
* LeafChecker is a registered trademark of Planet Pharma Solutions, Inc. in Japan.
* Acrobat® is a registered trademark of Adobe Systems Incorporated in the United States and /or other countries.