It can be difficult to manage all review comments, such as sorting out the reasons for each comment, missing information, and the importance of each comment.
This tool solves those issues by supporting formatted input of review comments and providing a list of comments with just one click.

Provides original review comments using notes, highlight, underline, and arrow annotations.
The user is guided to enter review comments in the required format through a Review Guide dialog which
enables the adding of reasons and importance.
Even when using Acrobat native comment tools, this tool can generate the review results in Excel format.
Possible to work with Documentum Annotation Service.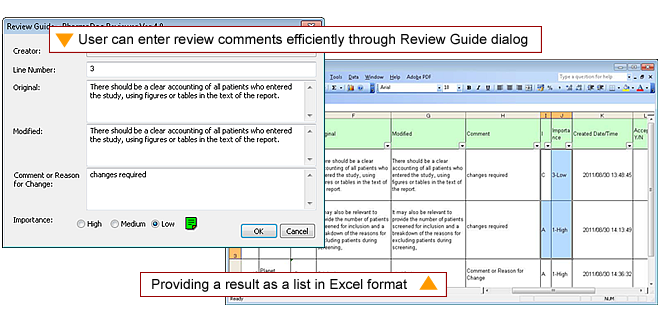 New features
Enabling and disabling Reviewer
You can now disable Reviewer feature when you are not reviewing.
Use the settings file to configure the initial state of the Reviewer Enabled/Disabled tool button when starting Acrobat.
Improvements
Reviewer can now be installed in the DC Continuous version of Acrobat.
Behavior of the Shift and Ctrl keys when pressed have been added to the tool tips.
Behavior of the Shift and Ctrl keys when pressed have been standardized for each of the highlight, underline, rectangle, and frame selection tools.
Highlight and underline annotations can now be created at the same location.
In 5.2.1 and older versions, Word line numbers were marked when highlight and underline annotations were created. Word line numbers are no longer marked.
You can now specify the pages on which line numbers are to be embedded or deleted. You can also abort this action.
The Author Name Verification settings dialog can now be used only when reviews are created via PAS (PDF Annotation Services).
The line number of the Review Guide and the author's name are now displayed when using the Modify Review Annotation feature to modify an Acrobat's standard annotation.
version
Supported environments
PharmaDoc Reviewer 5.3
Windows 7、Windows 8、Windows 8.1、Windows 10、
Windows Server 2008 R2 SP1
Adobe Acrobat X、XI、DC 2015、2017、DC Continuous
Microsoft Excel 2010、2013、2016
PharmaDoc Reviewer is available with an English or Japanese UI.
* PharmaDoc is a registered trademark of Planet Pharma Solutions, Inc. in Japan.
* Acrobat® is a registered trademark of Adobe Systems Incorporated in the United States and /or other countries.