It can be difficult to manage all review comments, such as sorting out the reasons for each comment, missing information, and the importance of each comment.
This tool solves those issues by supporting formatted input of review comments and providing a list of comments with just one click.
Features
Provides original review comments using notes, highlight, underline, and arrow annotations.
The user is guided to enter review comments in the required format through a Review Guide dialog which
enables the adding of reasons and importance.
Even when using Acrobat native comment tools, this tool can generate the review results in Excel format.
Possible to work with Documentum Annotation Service.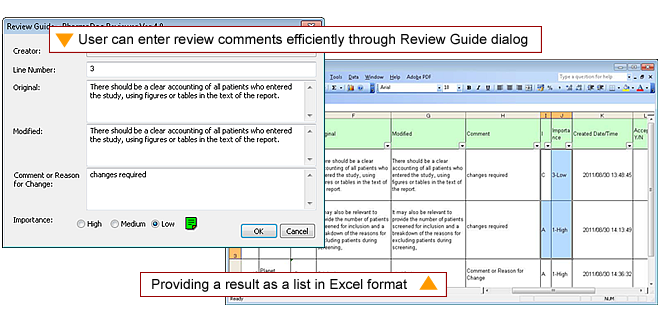 Improvements
Windows 11 and Excel 2021 are supported.
The system requirements have been changed.
Version
System Requirements
PharmaDoc Reviewer 5.5
– Windows 8.1, Windows 10, Windows 11
– Adobe Acrobat XI, DC 2015, 2017, 2020, DC Continuous (32bit only)
– Microsoft Excel 2013, 2016, 2019, 2021, Microsoft 365
– Microsoft .NET Framework 4.8
– Microsoft Visual C++ 2015-2019 Redistributable Package (x86)
Bundled Software
– PharmaDoc Quicker
* PharmaDoc is a registered trademark of Planet Pharma Solutions, Inc. in Japan.
* Acrobat® is a registered trademark of Adobe Systems Incorporated in the United States and /or other countries.